China's most populous city has stepped up virus control measures despite assuring the public about a limited COVID-19 spread, claims that contradict accounts from local residents.
Shanghai, a global financial hub located on China's east coast, has reported only three domestic virus infections since mid-March, attributing virtually all recent flare-ups to cases "imported" from overseas.
In recent interviews with The Epoch Times, locals from the metropolis expressed skepticism of the official narrative, describing an intensified level of alert reminiscent of the early days when the virus first ripped through China.
Body temperature checks and mask-wearing, which had stopped for a while, have returned—along with the health code app, a three-tier digital program that marks people's health in green, yellow, and red, that was once ubiquitous across the country. The timing of such moves, at a time when other areas such as Xinjiang and Qingdao have been grappling with their own new virus clusters, has heightened public anxiety.
In the Huamu Residential District in the city's Pudong area, residents said that officials have downplayed the number of virus cases as well as the quarantine measures imposed on some in the neighborhood.
Earlier, online discussions surfaced suggesting that there were as many as five confirmed local infections that resulted in dozens of neighbors being put under quarantine.
Pudong officials, in a late-night post on Oct. 26, dismissed the information as "rumors," saying they have found only one patient in the Pudong area, who became sick during quarantine and didn't infect others. The post further stated that the patient's contacts have tested negative.
Disputing authorities' claims, a resident from Huamu neighborhood said that "many people have been quarantined."
"What it [authorities] said about the virus negatives is false," she said in an interview, adding that stricter virus rules have appeared overnight in her residential area.
Another resident recalled a neighborhood committee officer saying that all of the nearby committees have received instructions to "examine vigorously like during the early stage of the outbreak."
"The virus is still there and it is lurking around. Who knows who might be the next to be infected," she said.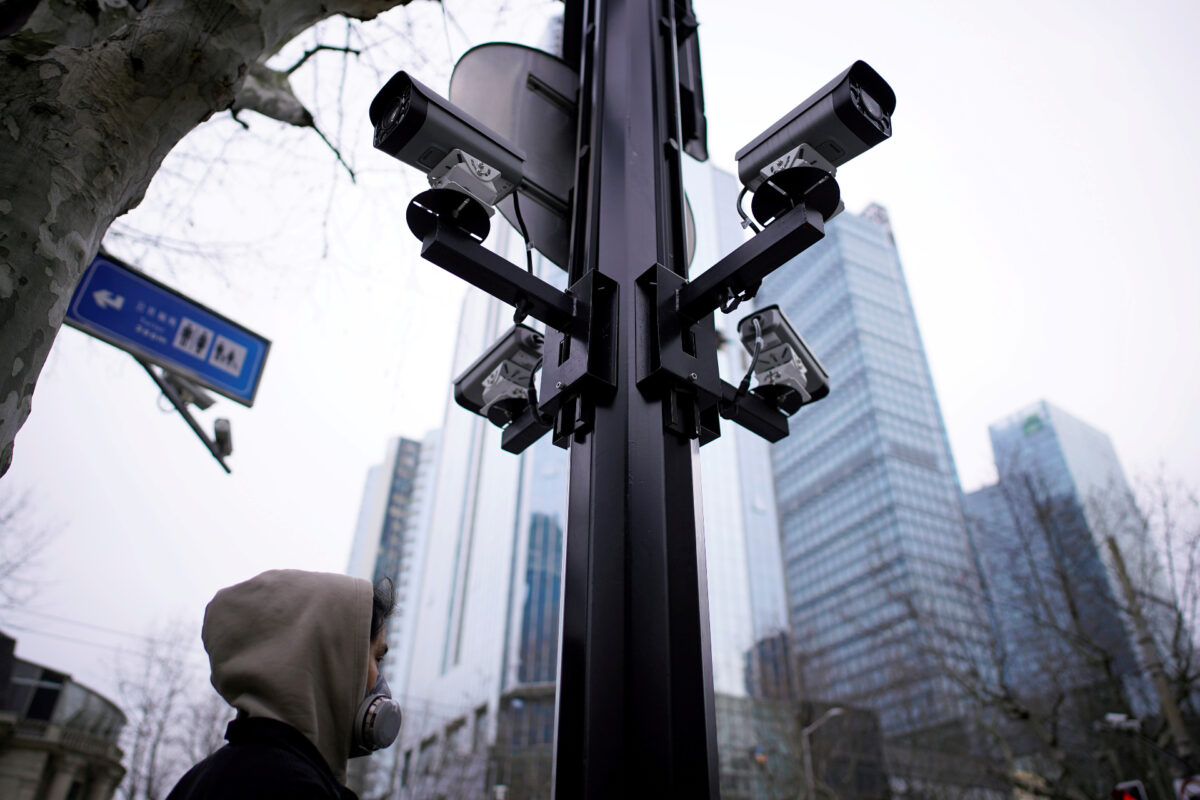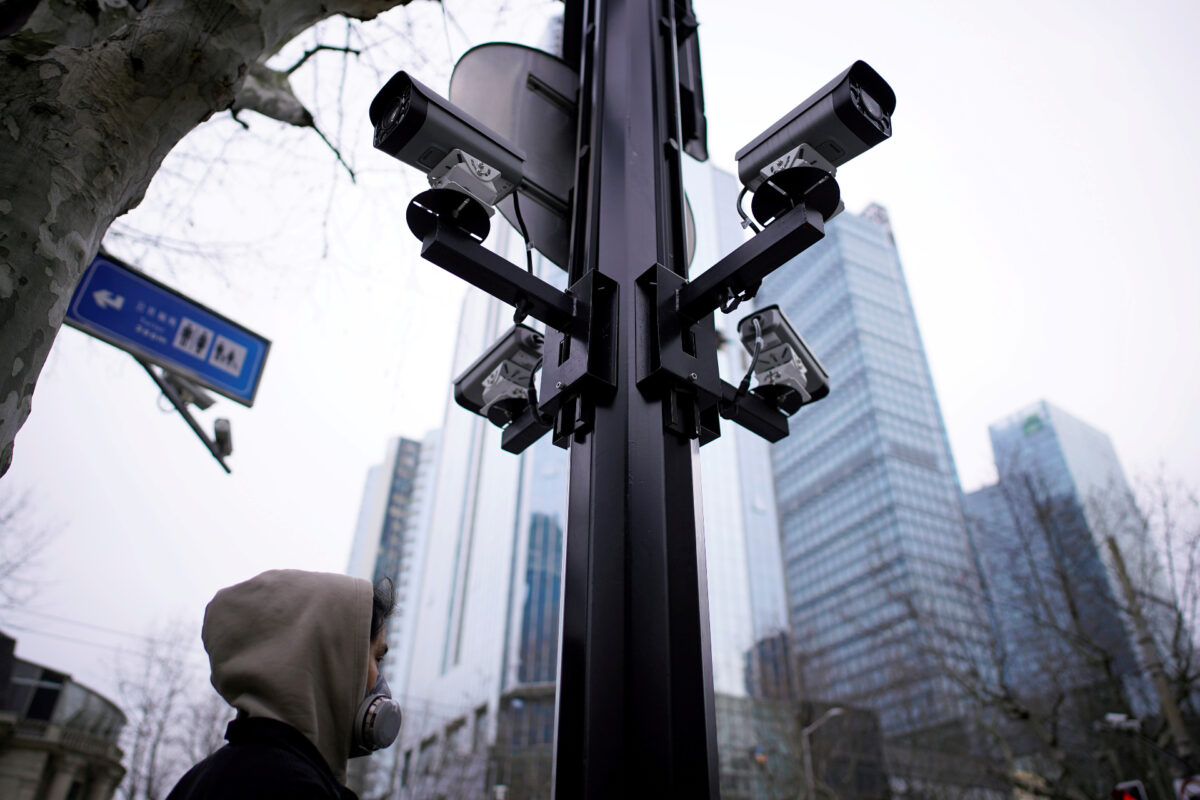 A man wearing a protective face mask walks under surveillance cameras as China is hit by an outbreak of the novel coronavirus, in Shanghai, China on March 4, 2020. (Aly Song/Reuters)
Other parts of Shanghai were also showing signs of tightening virus control.
Roughly a week ago, security staff at the Shanghai Jing'an Shibei Hospital turned away two elderly people for not having the health code app. While their body temperatures had been normal, the two didn't have smartphones and weren't tech-savvy enough to use the code to prove their health status, a witness told The Epoch Times.
In the hospital lobby, volunteers and security workers shouted through loudspeakers for everyone to "stand in line one meter apart (around 3.3 feet)," she said. The doctors were "armed to the teeth," equipped with goggles and hazmat suits unseen in recent times, she said, adding that this upgraded equipment may be due to a worsening outbreak.
Buses have installed infrared thermometers and declined anyone "unqualified" to be on board, another resident said.
An emergency notice shared with The Epoch Times by locals showed that a utility management company was told to close all the entrances to residential neighborhoods under their oversight, except for the main entrance. It also ordered the enhanced screening of entrants.

An emergency notice in Shanghai dated Oct. 24 to intensify outbreak control measures. (Provided to The Epoch Times)
Other photos provided to this outlet showed a security guard standing next to a bus driver to enforce the virus regulations, while volunteers in red uniforms and hats hustled about in public parks checking people's temperatures.
"Shanghai has entered wartime mode," one person said in an interview. "Drivers have guardians as companions and park visitors have red guards."
Chinese communist authorities are prone to suppressing negative news that could affect its national image, especially during the time around major events and key anniversaries.
The city is slated to host the annual China International Import Expo on Nov. 5, an occasion that drew a crowd of 917,200 visitors internationally in 2019, according to Chinese media. Authorities have vowed to make it a success despite the virus and have recently invited world officials to attend.
The 2020 event page featured an interview of Vitaly Mankevich, president of the Russian-Asian Union of Industrialists and Entrepreneurs, who told Chinese state media that the expo was a testimony that the "Chinese government's outbreak control measures have been very effective."