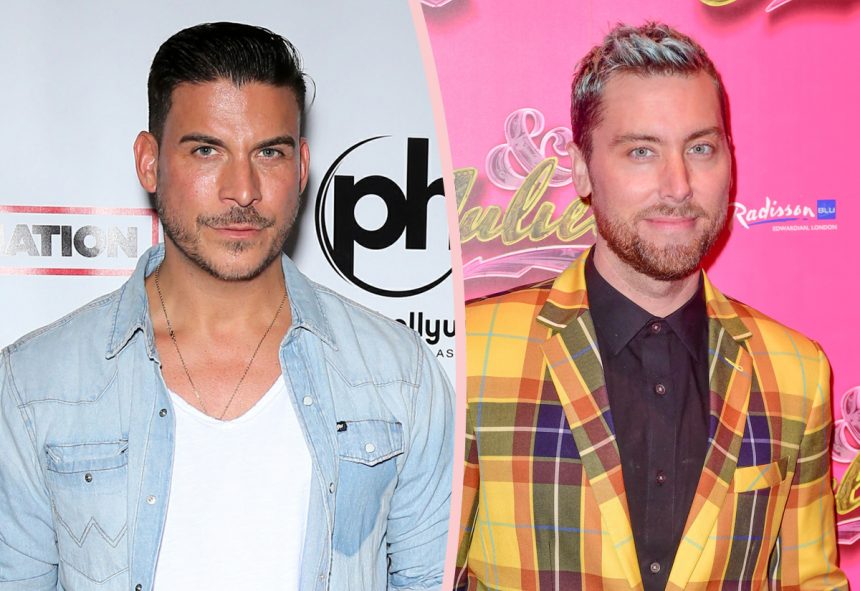 You heard it from Lance Bass . His business partner Jax Taylor is about to lose everything — starting with his position in their company.
Lance spoke out on his podcast, The Daily Popcast With Lance Bass , in a very personal installment of the " Reality Roundup" segment on Monday, discussing all the Vanderpump Rules drama — and how he was handling it.
In case you somehow hadn' t heard, Faith Stowers recently opened up about how she was treated by SUR co-workers as the only Black cast member, including being called names and in one scary incident getting the cops called on her by Stassi Schroeder and Kristen Doute in 2018!
Since these allegations went viral, Bravo has cleaned house, firing Stassi and Kristen , as well as newer cast members Max Boyens and Brett Caprioni — who were revealed to have past racist tweets.
Related: Stassi Schroeder Reportedly Pregnant Too
However, Jax — despite being mentioned specifically by Faith — somehow kept his job. But maybe not for long.
Lance, who had been friends with the 40-year-old — and even officiated his wedding to Brittany Cartwright , said:
" I do not see Bravo keeping him. This will keep getting bigger and bigger. "
We still don' t know what the network will decide, but we know what Lance is doing. The N*SYNC alum and the SURver had been in business together, recently launching a premium cocktail mixer brand called Just Add X .
Lance revealed during the show he had forced Jax out:
" It' s gonna cost him everything and he' s stepping down from Just Add X, which you know, we have to. We can' t be involved and associated with any of this going down. We have to do the right thing. "
It' s not yet clear what will happen to the company, whose Instagram account was just made private. But the partnership is done.
Related: Billie Lee Says Jax Refused To Film With A Trans Woman
On why Lance doesn' t feel he can forgive the past racist behavior, he complained about his " ignorant" friend:
" He doesn' t get it. He doesn' t care. "
Cohosts Giggles and Turkey brought up the latest controversy, Jax' s comment about 90 Day Fiancé star Ashley Martson ' s Jamaican husband, Jay Smith :
" Your mans nose is the size of his head… "
Lance revealed that when confronted about that particular offense, Jax defended himself by saying:
" I don' t understand this big nose thing. He had a big nose. Jewish people have big noses too. "
Wow. He really doesn' t have any accountability, does he?
Do YOU think Bravo will fire Jax??