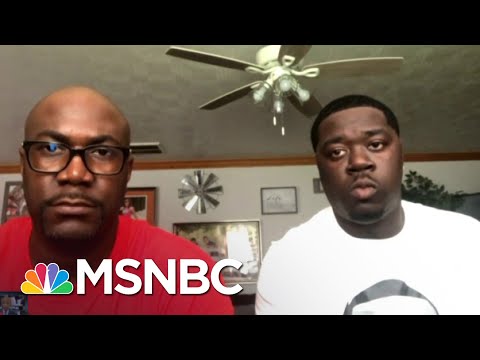 Sounds like typical bull s**t from Donald Trump .
George Floyd ' s brother Philonise is talking out after the man' ersus infamous and tragic death as a result of Minneapolis police officers last week, and he has a GREAT DEAL to say about the way this particular country' s President will be handling the whole thing.
Associated: Jamie Foxx Joins The particular Protests!
Philonise appeared on Al Sharpton ' s MSNBC show upon Saturday to discuss the discussions he had with Trump right after his brother' s loss of life. It isn' t unexpected that, according to the grieving sibling, Trump was absolutely horrible at offering condolences throughout phone call. But what is amazing is that the President was evidently so callous, he apparently didn' t even allow Philonise speak! WTF?!
The man relayed their experiences with Trump in order to Sharpton during the virtual job interview, saying (below):
" It had been so fast. He didn' t give me the opportunity to also speak. It was hard. I had been trying to talk to him yet he just kept such as pushing me off such as ' I don' to want to hear what you' re talking about. ' I simply told him I want proper rights. I said that I can' t believe that they dedicated a modern-day lynching within broad daylight. I can' t stand for that, that will hurt me. I just don' t understand, man. Precisely why we have to go through this? Precisely why we gotta have all this particular pain, man? I love my mate. I' m never likely to see him again. "
Incredible. What the hell?! How can anyone in a leadership role become so completely emotionless plus dismissive like that to someone grieving over the unjust lack of their loved one??
We know Trump is callous and completely out of contact, but come on… this really is next-level shameful!!!
Associated: So , Uh, Kanye, You'll still Voting For Trump Within November, Or What?
Trump has been down in Sarasota at the NASA-SpaceX launch this week, anyhow. He has not yet tackled the nation about the aftermath associated with Floyd' s death, that has included dozens of protests expanding bigger and bigger upon each successive day given that.
Ugh. Our own hearts go out to Philonise and the entire Floyd loved ones for their unimaginable loss. All of us can' t even think about going through what they are going through , and to think they' lso are getting so little support through those in charge… everything is just awful.
Reactions, Perezcious readers? So what do U make of Trump' t apparently s**tty behavior right here?? Just another day with the most severe President ever, or exactly what? Sound off about all that down in the comment area (below)…